Episodes
Saturday Apr 30, 2022
Saturday Apr 30, 2022
I decided to start My Spot on the Spectrum by sharing two podcasts from my old show - part one and two of my testimony.  Since I plan to talk about autism, creativity and faith in the podcast, I think that's okay.  This episode shares the 2nd half of my testimony about leaving the new age and occult and returning to my Catholic faith.  Part 1 focuses a bit more about my background, while this part talks about how God brought me back to the Catholic faith.  Both parts share on the new age and occult.  My apologies for the audio on this podcast.  It wasn't done 'in-studio' and you can tell.  My next episode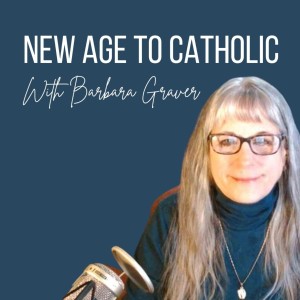 Saturday Apr 16, 2022
Saturday Apr 16, 2022
I decided to start My Spot on the Spectrum by sharing two podcasts from my old show - part one and two of my testimony.  Since I plan to talk about autism, creativity and faith in the podcast, I think that's okay.  This is part one.  I recorded it when I was hosting my previous podcast in 2018.   In it, I talk about my experience in the new age and occult and  my personal journey from New Age seeker to committed Christian.  In Part 2 I will be talking about how my journey eventually led me back home to the Catholic faith. 
About Me
Hi and welcome to my podcast page!
My name is Barbara Graver. I'm an autistic writer, designer and practicing Catholic. I write Catholic friendly paranormal fiction, design printable prayer cards and booklets and blog (and podcast) on faith, fiction and my life on the spectrum.
I was diagnosed with Autism Spectrum Disorder later in life and almost immediately began to see my life, history and future in a completely different way. So I started this podcast to share a bit of my journey and to connect with others.
To learn more about my writing and design check out my blog and website at BarbaraGraver.com or visit my Etsy shop at CatholicBookAndCard.com
And please don't forget to follow the podcast!